Managing Member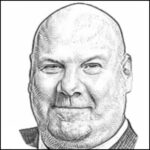 Dan joined Rally Capital in 2004. He works with local and national lenders and their borrowers to transition distressed businesses through acquisition, turnaround, refinance and asset disposition. In this capacity, he frequently serves as Senior Restructuring Officer, Receiver, Liquidating Agent and Senior Consultant to a variety of businesses and their advisors.
Before joining Rally Capital, Dan spent more than 20 years in commercial lending and bank operations. During this time, he held positions in audit and portfolio management and underwriting with national commercial non-bank institutions, including Uni-Fin Corporation, Sanwa Business Credit Corporation and FINOVA Capital Corporation, where he served middle-market businesses across the nation. In addition, he has experience in risk management from his position as Senior Vice President at Cole Taylor Bank.
Prior to his banking tenure, Dan held financial and operational positions in the private sector, including Chief Financial Officer of a multi-plant manufacturer/distributor, President of a business consulting firm he founded, and most recently as majority shareholder of a local startup manufacturing company.
In 2013, Dan – along with Rally Capital colleagues David Missner and Ryan Hayes – was awarded the Regional and National 2013 Small Company Turnaround of the Year Award for the reorganization of R&M Aviation, Inc., d/b/a AeroCare Medical Transport Systems, Inc. In this case, the Rally Capital team acted as financial advisors to the debtor in Chapter 11 proceedings, working to stabilize the company's operations and aid in formulating a restructuring plan that maximized value and creditor recovery.
Dan is a Certified Public Accountant and a member of the Association of Certified Fraud Examiners and the Turnaround Management Association. He received a B.A. in Accounting from Carthage College in 1984, and earned an M.B.A. in Finance from Loyola University Chicago in 1993.