Founding Partner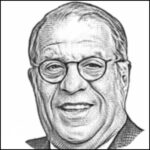 Howard founded Rally Capital Services, LLC in 1998, and continues to serve as its founding member today. He brings a wealth of knowledge and a broad range of experience, having worked as an Internal Revenue Agent and IRS Midwest Regional Division Appellate Conferee (pre-U.S. Tax Court adjudicator), attorney, tax law specialist and trusted strategic business advisor to a variety of operating businesses, commercial lenders and other business professionals.
Howard has structured hundreds of millions of dollars in transactional funding for his clients, including the successful implementation of creditor workouts involving millions of dollars in debt with more than 3,500 creditors and claims ranging from small deals to multi-million-dollar deals. As a paid professional, he has served as Managing Agent to Debtors-in-Possession, Assignee/Trustee in Assignments for the Benefit of Creditors, Court-Appointed Receiver to operating businesses, Liquidating Agent and advisor to business owners, commercial lenders and other professional advisors. In January of 2018 Howard was appointed the Chapter 7 trustee of the Central Grocers and SVT bankruptcy cases.
From 1986 to 1998, Howard served as founding member and principal of P&S Capital Services, a Chicago-area financial consulting firm specializing in structuring complex commercial debt and equity financing, creditor workouts, Debtor-in-Possession management, and Assignments for the Benefit of Creditors. Before that, he was in private legal practice, where he specialized in business planning and matters relating to state and Federal Income Taxation, including the administrative disposition of tax controversies.
Howard is a member of the Commercial Law League of America and the Turnaround Management Association. He has been licensed to practice law in Illinois and before the United States Tax Court since 1972. Howard earned a J. D. from DePaul University Law School in 1972, and received a B.S.B.A. in Accounting from Roosevelt University in 1968.