Senior Financial Consultant/Project Manager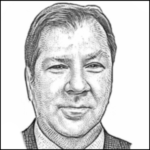 Tim joined Rally Capital at the beginning of 2017, he brings more than 30 years of experience in the banking and asset-based lending industry to Rally. In 1997, Tim started Midwest Business Credit (MWBC), an asset-based lending operation concentrating on working capital lines between $500,000 and $2,500,000. During the company's third year of operation, they were acquired by Business Alliance Capital (BACC). BACC was a national asset-based lending company participating in the same market with offices in New Jersey and California. Over the next three years, Tim ran the Midwest region for BACC. In 2004, Tim restarted Midwest Business Credit. Over the past thirteen years more than eighty percentage of the loans that MWBC financed were able to obtain traditional bank financing with Tim's guidance and oversight.
His background includes audit and audit management, loan administration, portfolio management (including problem loans and liquidation management), credit underwriting, marketing, and regional management responsibilities. Tim has worked for organizations such as GE Capital, NBD Business Credit, LaSalle Business Credit and US Bank. Tim is a member of the Chicago/Midwest chapter of the Turnaround Management Association and The Midwest chapter of the Commercial Finance Association. He earned a B.S. in accounting from Elmhurst College in 1983.